B2 and Brave, two brothers with remarkable talents, empower all walks of life in their new song "Do The Dash." The lyrical context finds the duo showcasing a strongsuit of confidence and casting away those who try dimming their light. 
They use a bully's harmful words as ammunition to be their best selves. B2 and Brave even go on to say, "The only problems I solve are the math kind/Don't come around here with a bad time." Given this excerpt, audiences can presume that the ascending musicians are unbothered by negativity tossed their way. 
B2 and Brave add, 
"

We are really good at math, and the line allows us to show our sign language skills in the video. We've been doing business for a few years as kids, so math has come in handy for sure. It's just a reminder to keep the bad vibes away. If you want a problem, let's dance it out or do some math to settle the score

."
In essence, B2 and Brave encourage individuals to be the bigger person when someone is trying to tear them down. Regardless of a person's opinion, it's important to think highly of yourself. You are, after all, created in the eyes of the beholder. 
Another notable line from "
Do The Dash
" is "
I'm the leader of the new swag/Don't touch me, bro, you can't do that
." Also, this line speaks volumes 
"
You bullying me not a past time."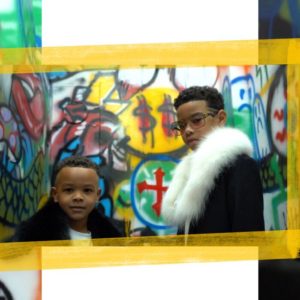 "Do The Dash" is a feel-good boom-bap meets modern hip-hop offering. Given the catchy hook and dance moves, it can potentially be a hit on Tik-Tok. The mogul, Damon Dash, inspires the song. 
"
He is such a confident businessman who is known to fight for his artists," they add. "Some kids don't have a Damon Dash in their lives to keep them from being bullied, so we wanted to provide some responses we can all use to flex confidence when somebody is trying to test us."
B2 and Brave curates hip-hop for Generation Alpha. They've moved around the world with their family and created our own sound from traveling and living in some of the most influential cities in America. 
Hip-hop runs through both B2 and Brave's veins. Since they were young, they've been surrounded by the genre. Additionally, their father designs clothes for several hip-hop figures like P Diddy, Future, G Herbo, and Nicki Minaj. Their dad would design while listening to artists' unreleased music to get the vibes for their tours and performances. From then on, they were there learning rhyme schemes and timing. 
B2 has the same name as his father which is Brandon. His brother's name is BRAVE. Their names combined let kids worldwide know that they can't "Be Too BRAVE" when dealing with being themselves. 
They add,
 "Being a kid is hard sometimes, and if you don't have a brother that has your back, we've got you!"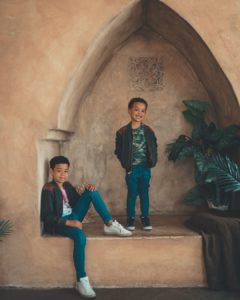 The power duo creates when they're living in the moment.
They go on to say, 
"We have so many influences around us, and things to talk about, so we write bars about what we do in real life. For example, we made a song using a line we made up while playing tag and turned it into something we can sing to hype us up before our basketball games." 
When they're in the studio, B2 likes to have red and pink Starbursts. Brave prefers Apple Juice.
 While creating "Do The Dash," B2 and Brave looked for new ways to express themselves so the song could connect with kids who listen to it. Then, they had to live the lyrics for a bit to be comfortable going forward. 
The message behind "Do The Dash" pushes others to be themselves. 
"We make songs that represent positivity and inclusion for cool kids, and kids that may not know how cool they really are," B2 and Brave said. "Find something fun and positive to do, and just go for it. This is when we embrace our futures and stop letting fear hold us back. Go be great!"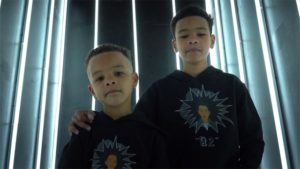 The music video finds B2 and Brave in a classroom setting showing their self-defined swag. Then, they're joined by kids on the stage and their parents and sister in a futuristic setting. 
Watch the music video for "Do The Dash" by B2 and Brave below: